Farzana Behram Contractor. There is so much that goes behind these three names, too much to compress in a few lines. There are facets that range from food and wine to travel and pets, photography, farming, interiors and to just creating – anything! Her work is her life. And she lives through the activities she pursues, the people she encounters, the places she visits, the tastes and flavours she experiences, and most importantly, the wondrous life she sees through the eyes of her two pet Lhasa Apsos. A woman of many hats is what defines her best. She is totally grounded and believes in simple living. An exponent of the Wabi Sabi philosophy, she derives joy from little things and has the ability to see beauty in brokenness. Today, she stands accomplished in many ways, a successful publisher,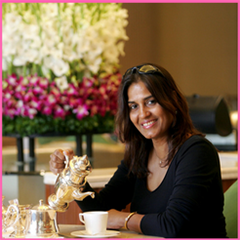 editor and chief photographer of UpperCrust (2000) and Dogs & More (2011), curator of India's first and finest food exhibition, the UpperCrust Food & Wine Show (2003) and Dog A'Fair (2008) - India's first pet event, a doggie carnival that captured the imagination of people. Pet parent to Inshy and Tasha she is a homemaker on the move, with hectic schedules, both professional and personal which being part of
the big social whirl of Bombay, demands of her. When she started off, married to the reticent and renowned journalist and editor, Behram Contractor aka Busybee, who she helped launch the city's much respected daily, The Afternoon Despatch and Courier (1985), she says she didn't possess an iota of knowledge of the future that lay ahead. "But, by Allah's grace, it has been a fulfilling one. Filled with opportunities to hone my skills, be it in writing, shooting pictures, building homes, designing interiors, organising events, even growing vegetables and so much more. All this while I juggled time, imbibing the art of time management. To multi-task is no mean feat, but that's what life is all about for me, shifting gears. And there's a long road ahead still..." signs off Farzana Contractor.